Reliance Foundation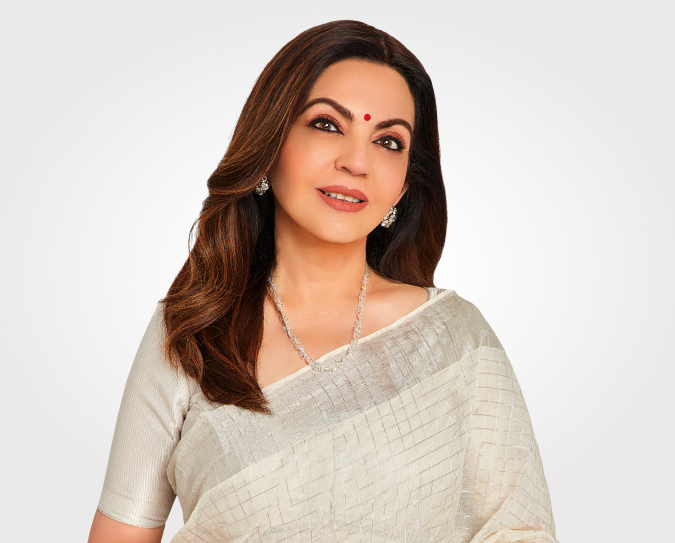 "We believe that every child is a reservoir of talents and given the right environment and impetus, they will blossom holistically beyond our imagination."
Nita M. Ambani
Founder & Chairperson, Reliance Foundation
Reliance Foundation was set up in 2010, with a vision to build an inclusive India by addressing some of the nation's pressing developmental challenges. Led by Smt. Nita M. Ambani, Founder & Chairperson, the Foundation has impacted the lives of more than ten million people across India.

The Foundation has a comprehensive development approach, with a focus on sustainable development, self-reliance and social empowerment at the grassroots level. Through its model of direct engagement and leveraging of technology, the Foundation reaches out to the marginalized communities to identify their needs and works with them to improve the quality of their lives. To maximize its reach and outcomes, Reliance Foundation has established strategic partnerships with organizations that have the technical expertise and experience to undertake its various initiatives.

Reliance Foundation is committed to making a positive societal impact and focuses on creating change in the areas of Rural Transformation, Health, Education, Sports for Development, Disaster Response, Urban Renewal, and Arts, Culture & Heritage.
Click here for Reliance Foundation Website
Reliance Foundation Schools
Reliance Foundation Schools work with the aspiration and commitment to provide an enjoyable and enriching educational experience to children - one that inspires and facilitates them to realise their full potential. The Schools emphasise academic excellence and all-round development of children by offering a fine blend of curricular and co-curricular activities.
At Reliance Foundation School, we believe that every child is uniquely talented and given a congenial environment, each will blossom beyond imagination. Our constant endeavour is to harness and channel the energies and capabilities inherent in each child through active participation and creative involvement in the classroom and wholehearted engagement in various activities.
The ever-evolving and progressive curricula adopted by the Schools, supported by contemporary pedagogical practices go a long way in widening the intellectual and creative capacity of children. Through their comprehensive yet flexible curriculum framework, the Schools hope to make a difference in the lives of children by enabling them to be happy and successful, and prepare them to be responsible citizens.
The 13 Reliance Foundation Schools, located in Jamnagar, Surat, Vadodara, Dahej, Lodhivali, Nagothane, Nagpur and Navi Mumbai, collective provide quality education to around 16,000 children annually and employ nearly 1000 teachers.
Motto
At Reliance Foundation School, children -
LEARN

to explore new realms of knowledge, skills and values with a sense of curiosity.

IMAGINE

the infinite possibilities that the world offers and how they can develop themselves and positively impact the world.

EXCEL

intellectually, develop physically and artistically, and grow emotionally by discovering their inherent potential.
Vision & Mission
Vision
To serve as a springboard for learning that recognises the dynamics and challenges of an ever-evolving and increasingly interconnected world, and celebrate the continuum of values and culture, characteristic of a vibrant, harmonious and forward-looking society. We believe that a happy school will inspire children's imagination, foster excellence and make the learning experience enjoyable, thereby preparing them for lifelong learning and paving the way for a progressive nation and a better world.
Mission
To provide a learning experience that makes every child a happy and a whole person - an experience that children would cherish for a lifetime; one that brings out the best in them to live life fully and in meaningful ways.

We seek to accomplish this by providing a range of learning opportunities and challenges that would enable the young minds to explore the diversity and commonality of the world with a sense of wonder, think creatively and critically, express themselves effectively, embrace a culture of innovation, instill a love for lifelong learning, and evolve as responsible citizens.