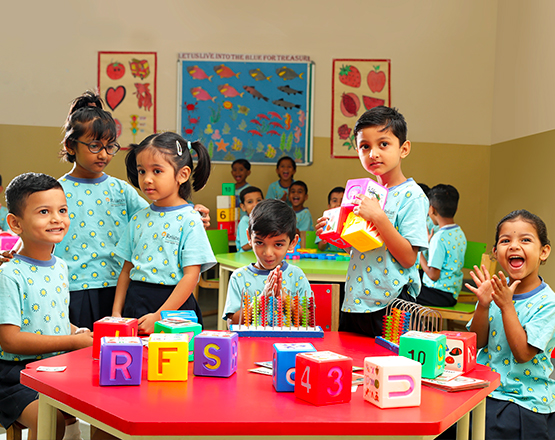 The Pre-primary curriculum sets the tone for learning by kindling the inherent curiosity in young children. At this stage, children are active and curious to explore, and love to play by engaging in activities that interest them. The program builds on pre-literacy and pre-numeracy skills, focussing on developing social and personal skills, critical and creative thinking skills.

The use of innovative and engaging teaching methodologies, incorporating a blend of Montessori and Play-Way techniques, help create a happy learning environment with fun-filled activities, involving all the five senses. These activities are designed to meaningfully engage children in the learning process and help them blossom to their full potential.
Highlights of Pre-primary School Programme
The emphasis is on creating an ambience of freedom for children to play, sing and dance.
The use of toys and teaching aids, storytelling, role-play; and teaching alphabet and numbers through stories and rhymes are integral to the teaching-learning process.
Play materials give children the opportunity to see, touch, feel, and explore.
Children are encouraged to engage in group activities, which enable them to develop their social skills.
The curriculum emphasises holistic development of children in various areas - physical, creative, language, numeracy and general awareness.
Learning by doing is encouraged through projects and activities involving art, craft, music and dance. These activities help children acquire integrated knowledge, fine and gross motor skills, apart from making learning enjoyable.
The classrooms are colourfully designed to make children more inquisitive.
They have ample opportunities to explore the environment around them and become more perceptive.
Festivals and special celebrations help children understand and value cultural heritage and appreciate diversity.
The Programme aids a pleasant transition to the Primary School, thereby, enabling children to adapt to the new environment, as they are initiated into the world of formal learning.