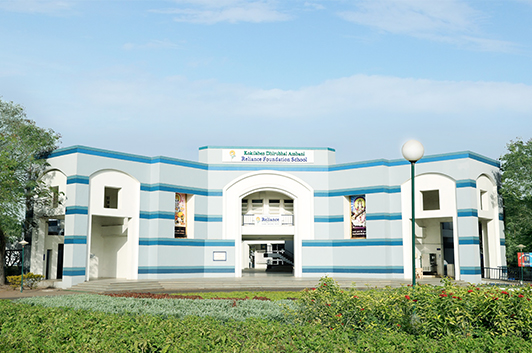 Kokilaben Dhirubhai Ambani Reliance Foundation School, is a K-12 co-educational CBSE English Medium School (CBSE Affiliation Number: 430033) situated amidst sprawling green campus of Reliance Greens in Jamnagar, Gujarat. The School is committed to providing an excellent learning ambience, equip students to excel in their chosen tracks and take up leadership roles in future.
The School, established in 1997 with 395 students and 11 staff members, now caters to the educational needs of 3598 students with the help of 200 staff members. KDARFS is a microcosmic reflection of our nation with students and staff coming from all corners of the country, engaging, interacting and contributing to give the institution an unrivalled status amongst its peers.
KDARFS ceaselessly endeavours to nurture students in a stress-free ambience that is pulsating with positivity and provides them the best possible opportunities to explore their talents, and adopt habits that mould them into strong individuals. The School sculpts the young minds in such a way that they can reach their full potential and contribute to the society in a meaningful manner.
Motto
At KDARFS, students -

LEARN
LEARN to explore new realms of knowledge, skills and values with a sense of curiosity.

IMAGINE
IMAGINE the infinite possibilities that the world offers and how they can develop themselves and positively impact the world.

EXCEL
EXCEL intellectually, develop physically and artistically, grow emotionally by discovering their inherent potential.