Sports & Co-curricular Activities
Home
/
Activities
/
Sports & Co-curricularActivities
Sports and co-curricular activities act as instruments for holistic development of students. These activities are an extension of core educational and developmental experiences. Apart from enhancing the proficiency levels of students, they also foster sportsman spirit, enhance physical endurance, promote healthy competition and ensure overall growth of children.
The School encourages students to take advantage of the wide range of sports and co-curricular activities that are available to them. They can participate in various activities as per their interests and abilities. Through these events, a spirit of teamwork is nurtured and leadership qualities are identified and enriched.
The School has an efficient and well-qualified team of teachers who are dedicated to nurturing the talent of students.
Some of the sports and co-curricular activities offered by the School are: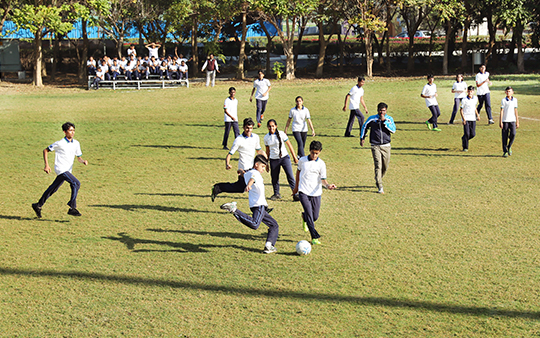 Sports
Basketball
Football
Table tennis
Badminton
Volleyball
Cricket
Handball
Carom
Chess
Athletics
Yoga
Karate
Kho-Kho
Swimming
CO-CURRICULAR ACTIVITIES
Vocal & Instrumental Music
Indian & Western Music
Classical & Folk Dance
Indian & Western Dance
Dramatics and Theatre Art
Storytelling & Recitation
Debate & Declamation
Elocution & Extempore
Quizzes
PowerPoint Presentations
Web-designing
Group Discussions
Spell Bee
Art & Craft
Drawing & Painting
Creative Writing