The Pre-primary Programme nurtures curiosity, exploration and innovation in children while maintaining a safe and happy learning environment. An individualized approach towards teaching helps in inculcating a love of learning, enhancing social skills, and instilling moral values. The primary focus of the programme is on building the students' self-confidence and enhancing their ability to communicate effectively in English as well as in their mother tongues. Teachers maintain this approach by effective use of language and by encouraging children to express themselves freely.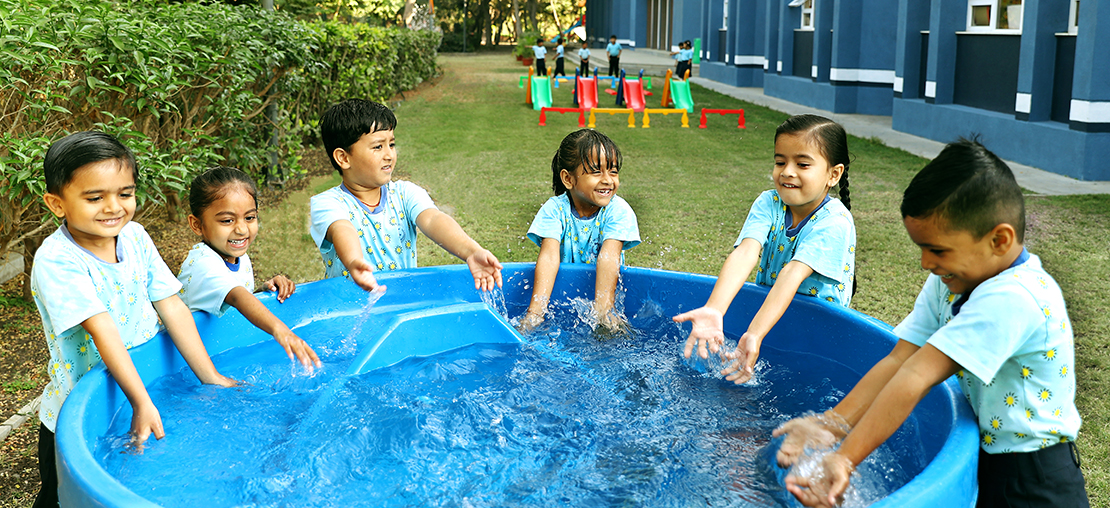 The curriculum has adopted a variety of individual as well as group activities which facilitate a dynamic and positive learning atmosphere. Games, songs, craft projects, story-telling, role-playing, recitation, drawing and painting develop children's fundamental skills in literacy, numeracy, arts and phonetics. They are encouraged to innovate, explore and discover through dance, music, art and craft. The use of pictures, models and symbols helps them identify relationships between sets and arrangements that are to be sorted, counted, shared or represented.
Sports and games help in strengthening coordination and motor skills, and instill a spirit of team-work and sportsmanship in the young learners. Picnics and field trips nurture students' understanding of the environment. Celebration of festivals sensitizes them to the diverse cultures and traditions in the country.
Programme Highlights
Students are provided a conducive environment so that they can learn, grow and play.
Books, toys, stories, rhymes, songs, alphabets and numbers, experiments and field trips are an integral part of the teaching plan.
Play materials are given to young learners to touch, feel and explore.
Activity and library periods provide opportunities to students to develop their gross and fine motor skills and nurture their curiosity.
Learning by means of activities like art, craft, music, dance, stories and experiments help learners to acquire integrated knowledge.
Colourful and spacious classrooms and opportunities to explore the environment make the students perceptive and inquisitive.
Activities like role-play, puppetry, circle time, interest corners and several innovative teaching practices help students to identify and enhance their innate talents and skills.
Festivals and special celebrations help children understand and appreciate the cultural heritage and diversity.
The curriculum prepares children for a smooth transition to a more formal and advanced primary curriculum, making it easier for them to adapt to the new environment.