Every child is uniquely talented and a school plays a central role in helping them blossom to their full potential.
Smt. Nita M. Ambani
Founder & Chairperson, Reliance Foundation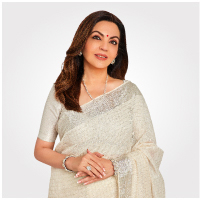 Reliance Foundation (RF), the philanthropic arm of Reliance Industries Limited, aims to play a catalytic role in addressing the nation's development challenges through innovative and sustainable solutions. Led by Founder and Chairperson, Smt. Nita M. Ambani, RF is relentlessly working towards facilitating transformative changes to improve the quality of life of all and their overall well-being.
Being one of India's largest social development initiatives, RF is focused on Rural Transformation, Health, Education, Sports for Development, Disaster Response, Urban Renewal, and Arts, Culture and Heritage.
Reliance Foundation has so far touched the lives of over 45 million people across India, in more than 44,700 villages and several urban locations.