The Senior Secondary School Programme is aimed at preparing students for higher education and career choices.
The School guides students to identify their areas of strength and pursue an academic programme that is apposite to their learning style, inclination and long term goals. The idea is to give the learner a sound foundation in conceptual knowledge and in the skills of application, analysis and higher order thinking.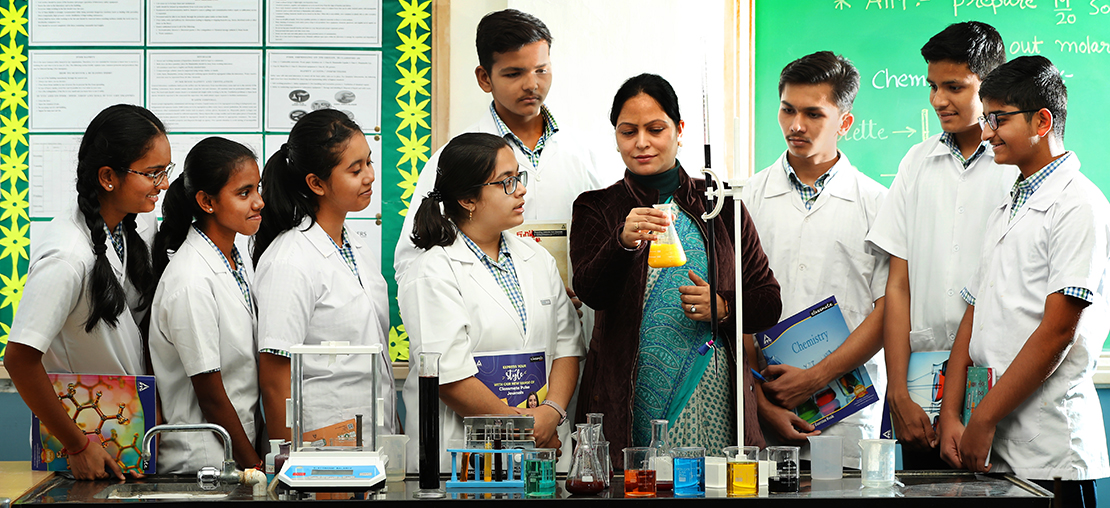 At the Senior Secondary level, the curriculum shifts its focus from the broad-spectrum subject matter to the more specific and detailed content of the subject. The concepts in different disciplines are dealt with precision. This is a stage where students identify their subjects of interest for future learning and attain a better understanding about their career path. Thus, at this stage, they are better informed to select the subjects and streams of their choices and aptitude.
The School offers Science, Commerce and Humanities Streams.
In Science Stream, the subjects offered are Physics, Chemistry, Biology/Mathematics and Computer Science/ Informatics Practices/ Mathematics/ Physical Education.
In Commerce Stream, the subjects offered are Business Studies, Accountancy, Economics and Mathematics/ Informatics Practices/ Physical Education.
In Humanities Stream, the subjects offered are History, Geography, Economics and Mathematics/Psychology/ Physical Education/ Fine Arts/ Informatics Practices.
In all the streams, English language is a mandatory subject.
Highlights of Senior Secondary School Programme
Integrated two-year, +2 Programme affiliated with the CBSE Syllabus.
The programme prepares students for Board Examinations and tutors them to do their best in various competitive examinations.
Frequent Parent-Teacher sessions are conducted which keep the parents up-to-date with their child's progress.
Students receive individualized academic support to reinforce the concepts learnt in class and bridge the learning gaps.
Library resources are utilized extensively to enhance the knowledge.
Students are provided proper career guidance and counselling facilities to assist them in choosing the right career path.
Students take initiative by leading assemblies and organizing school events.
Co-curricular activities include sports and physical education as well as inter house cultural and oratorical events.
The School invites renowned speakers from various fields to deliver interactive lectures which expand the curve of learning.