The Primary Programme focuses on sustaining the students' zeal to build on the fundamental knowledge they acquired at the pre-primary level. It inspires exploration and inquisitiveness and develops the children's competence in various fields - reading, writing, listening, speaking, problem-solving, observation, measurement and the use of information and communication technology.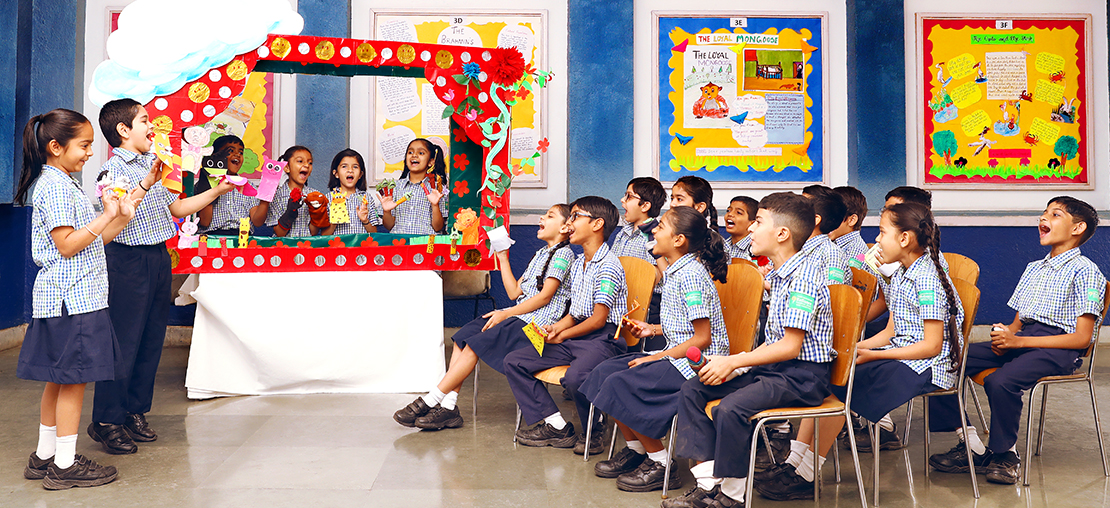 Equal emphasis is given to individual and group activities, to enhance children's ability to work across all levels. Physical Education develops sports skills and generates awareness about general health and fitness. Exposure to team and individual sports encourages a sense of team spirit and cooperation, as well as individual effort and accomplishment.
The wide range of curricular and co-curricular opportunities offered in the curriculum help inculcate confidence and discipline in children. Field trips, excursions, activities, projects and presentations provide pragmatic learning opportunities and co-scholastic activities like Dance, Fine Arts, Music, Yoga, Elocution and Drama foster the holistic development of students. Innovative teaching methods like free play, dramatization, puppetry, singing and dancing deepen student's interest in learning.
Primary School Programme Highlights
The Primary School Programme emphasizes on the holistic development of every child.
Students are encouraged to develop good study and reading habits.They are motivated to read story books, newspapers and magazines individually as well as in groups.
The Primary School curriculum utilizes recreational resources and activity-driven approaches like project making, models, charts, visuals, multi-media and presentations to enrich students' knowledge base and skill sets.
Special emphasis is laid on empirical learning through experimentation, observation, analysis, drawing inferences and innovation to develop a scientific temper.
The primary mathematical concepts are further augmented, with a focus on numerical skills and mental reasoning ability.
Linguistic skills are refined through active reading and listening programs, and development of creative and artistic expression.
Students are exposed to new realms of knowledge, new places and learning experiences through educational excursions and field trips.
Regular graded exercises, work sheets, group learning projects and assignments maintain a dynamic classroom experience.
The Primary School curriculum lays special emphasis on teaching computer skills to the students.
Students are provided opportunities to learn music, dance, drama, painting, elocution etc. to hone multiple intelligences.
The importance of service to community is instilled in learners by developing the value of empathy and the spirit of sharing in them.
Regular assemblies, workshops and seminars are conducted to impart life skills and values to the students.
100% participation in all the activities, events and functions is the most important aspect of the Primary School Programme.