The Secondary School Programme is devised to consolidate students' knowledge and enable them to explore each subject in detail. It caters to individual learning styles in terms of pedagogy and assessment. Emphasis is laid on strengthening application-based learning through projects, experiments, assignments, discussions, presentations, etc.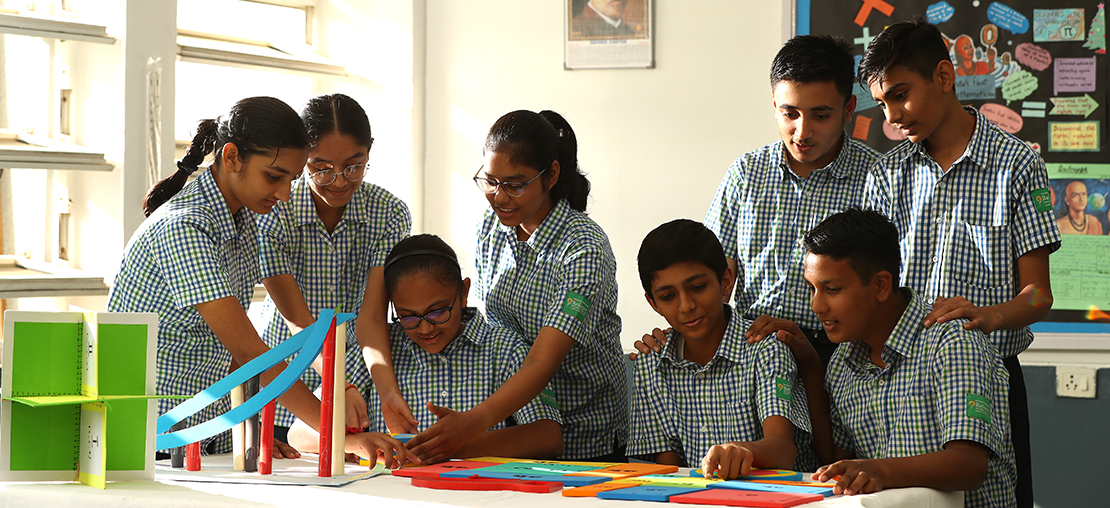 Highlights of Secondary School Programme
The Programme provides a well-mapped curriculum which refines the thinking skills with effective learning materials and resources.
The subjects offered by the school at the secondary level are English as First Language; Hindi/Sanskrit as Second Language; Mathematics; Science; and Social Science.
The language curriculum imparts varied experiences from the real world to facilitate the learners to contextualize the knowledge of the language and gain meaningful experiences.
Students acquire and develop communication and listening skills through well designed activities like debates, group discussions, elocution, extempore, theme-based talks, drama, skits, role-play, etc.
It encourages students to explore the relationship between practical and theoretical concepts of various subjects.
Interdisciplinary approach dissolves the boundaries of subjects and reinforces learning across the curriculum.
Workshops and interactive sessions with noted resource persons proves effective in guiding and counselling the students.
Students are encouraged to explore and make extensive and meaningful use of library resources, for reference, project works, discussions, presentations as well as reading for pleasure.
Laboratory experiments are an integral part of the teaching-learning methodology that equip students with the skills of observation, and logical and analytical thinking.
Students receive personalized academic support in the form of enrichment/academic support classes to reinforce the concepts learnt in regular classes and bridge the learning gaps.
Personality and leadership skills development programmes help students become more responsive to the dynamics of their physical, emotional and social development.